New iPhone 5S photos show us a graphite-colored version
21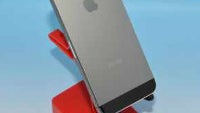 There's no denying that we've seenquite a bit from the iPhone 5S, a fact that has put the ability ofApple to keep the lid onto new products successfully under question.We're sure you've already seen the trio of colors that have beenleaked so far: champagneplus onein black and one in white/silver, all three of which have beenconsistent with the info we've seen on the Apple flagship. That beingsaid, a new, grey or graphite-colored version with a black trim hasbeen unearthed earlier today by Apple insider Sonny Dickson. Thisfits extremely well with the latest intel hailing from Japan,which alleges a similar, albeit less visual story.
The now four versions of the iPhone5S are expected to go on sale sometimenext month. So far, the leaks amount to more significantimprovements than what Cupertino usually treats us with as far as 'S'versions of their phones are concerned. Namely, anew Apple-designed Cortex-A7 SoC is said to boost performance asmuch as 30% over its A6 predecessor. Moreover, a new and improved,quad-core PowerVR SGX 554MP4 has been included, along with thequicker 1GB of LPDDR3-1333MHz RAM (compared to the iPhone 5's 1GB ofLPDDR2-1066MHz RAM unit). The improvements don't end here, for analleged fingerprint scanner doubling up as the Home button is said tomake an appearance, with an improved, 12MP dual-LED flash shooteralso in tow.
Forthe full scoop on all things iPhone 5S, makesure you check our round-up here.
source: SonnyDickson