New iPad gets obliterated again, this time by lasers
14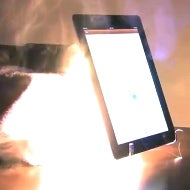 Another day, another soul with taste for destruction obliterates the gadget of the day, Apple's trendy new iPad. This time it is not with the trusty
HK53 Assault Rifle
, but rather with more sci-fi methods.
Wicked Laser unleashed its Spyder III Krypton, Arctic and Тorch series on the poor unsuspecting aluminum-and-glass slab. The lasers were burning or baking the new iPad, depending on their power, and it finally went down in flames.
Pretty high tech and heartless way to make someone go; the bullet has so much more personal touch. Still, if you enjoy getting things blown up, laser-induced melting should also be pretty high on your list, so have fun with the destructive power of light in the video below.