New coating could make your smartphone screen shatterproof
23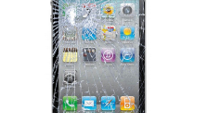 Dropping your smartphone onto a concrete sidewalk will most likely shatter the screen. But soon, you might be thanking scientists at the University of Akron for developing a film that makes your display shatterproof. Using a transparent layer of electrodes on a polymer surface makes a surface tougher and more flexible. Current smartphone screens use a coating of indium tin oxide, which is a more brittle material. In addition, ITO is also more likely to shatter and the price of the material is on the rise.
The material being tested at the University of Akron has been tested and did not lose its shape or strength after 1000 bends. It is also more transparent than ITO. And the material's flexibility means that it can be sold cheaply, in large rolls. Yu Zhu, UA assistant professor of polymer science, says that this material could revolutionize touchscreen surfaces. If the research pans out and becomes commercialized, it will be a godsend to those who have a habit of dropping their phone.
"These two pronounced factors drive the need to substitute ITO with a cost-effective and flexible conductive transparent film. We expect this film to emerge on the market as a true ITO competitor. The annoying problem of cracked smartphone screens may be solved once and for all with this flexible touchscreen."-Yu Zhu, UA assistant professor of polymer science
This is all in the testing stage and so far the material has withstood repeated scotch tape peelings and bending tests. There is no word when we could see the new material on a smartphone, but so far the work seems quite promising.

New material could prevent smartphone screens from shattering
source:
UniversityofAkron
via
Engadget