New app with 3D Touch: Facebook update brings 3D Touch support for iPhone 6s family
10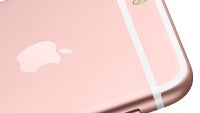 The official Facebook app now supports 3D Touch, the fancy new feature in the iPhone 6s series that allows you to press harder on the icon to get a pop-up menu with additional options.
For most users the app will automatically update and you should be able to use 3D Touch right away, but in case it hasn't you can go on the App Store to check whether it has updated to the latest version.
The update is a fairly minor one: there is still none of that Peek and Pop functionality we've seen in Mail, nor there is support for uploading Live Photos as far as we can see, so the only novelty is being able to 3D Touch on the Facebook icon. This will show you shortcuts to taking a photo/video, uploading one, or writing a post.
All of this is neat, but maybe not as useful as an update to Messenger would be, where we imagine you would be able to quickly go into recent conversations. The download link for the app is right below and also below, you can find a screenshot of the new functionality.