New Video of BlackBerry 9800 whets the appetite
This article contains unofficial information.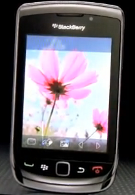 Remember the excitement that permeated the cellphone world when the BlackBerry Storm was about to be launched? Unfortunately, RIM failed to make good on the promise of the Storm by releasing a half-baked handset. Hopefully, RIM does it right this time as the same level of excitement is building for the BlackBerry 9800 Slider. With the multimedia and navigational function of a touchscreen combined with the outstanding QWERTY keyboard from the Bold series, the hardware looks outstanding. Add in a new finger friendly, multimedia capable OS and a WebKit based browser that surfs with the best of them, you have a stylish phone that gets you through work in the day and takes you to the finest clubs and restaurants at night. Below, for your viewing pleasure, we have a set-up video of the 9800. Expected to be launched by AT&T, it could prove to be valid competition to the iPhone 4 and the Samsung Captivate. This could be the dark horse phone of the year and is the device that the Storm should have been.
RIM BlackBerry BOLD 9800 Preliminary Specifications
source:
Salomondrin