New Verizon ads take battle with AT&T in funny direction
32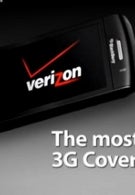 The back and forth television ads battle between Verizon and AT&T had reached a new peak of nasty last week when AT&T put in rotation its ad that was patterned after one of those coffee switching spots. Instead of coffee, diners had their AT&T smartphones switched with Verizon models. At the time, we wrote that the ball was in Verizon's court and the carrier answered back by taking the feud in a classy new direction with two ads that mock a couple of classic spots.
With the carrier's nickname of Big Red, Verizon took the old Wrigley ads for the gum of the same name (Big Red, not Verizon gum) and turned it into a commercial singing the praises of Verizon's 3G coverage. Co-starring the BlackBerry Storm2, the words are sung to the Big Red gum commercials: "(Spoken) No other wireless carrier has more 3G coverage than Big Red. (Song starts) So browse the web much better, uptake Facebook pages better, ditch your boring job much better, better with Big Red. That 3G coverage let's you do it, you'll watch YouTube on a horse when you use it. E-mail friends and family better, download stupid stuff much better. Get the most 3G coverage with Big Red." And not one blue AT&T map in the whole ad.
The second spot is a take off of those old DeBeers' shadow commercials for diamonds. While not as hilarious as the Big Red spot, it still makes the point. Yes, the blue map returns but the ad is not as vicious as the last few have been from both carriers-AT&T in particular. Hopefully these spots have taken the whole Verizon-AT&T battle in a softer, funnier and less finger-pointing direction where both carriers can get the message across without the venom.
source:
YouTubeVerizonChannel
via
Engadget