New Samsung Chromebook 2 leaks, faux leather treatment in tow
19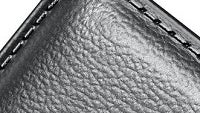 The styling Samsung applied to the Galaxy Note 3, and the new Galaxy TabPRO and NotePRO, will not be limited to Android powered device line.
Samsung is working on a successor to its Chromebook. Chromebooks are known for quick start times, and affordable price points (except for maybe the Chromebook Pixel). Given the form factor of the current Samsung Chromebook, we are not sure what the second generation device will have in store for us.
The current model packs a dual-core Samsung Exynos 5 CPU, Bluetooth 3.0, 2GB of RAM and a 16GB SSD. Wi-Fi connects the user to the internet and Google Drive, of which 100GB of space is included with the Chromebook. It is light too, under 2.5 pounds, with a battery big enough to offer about 6 hours of use.
Whatever the Samsung Chromebook 2 brings to the table, we are sure it will be improvements to some degree across the board, like Bluetooth 4.0 LE, faster processor, and maybe some more RAM or storage (though that is not a priority for Chromebooks).
The styling of the current generation Chromebook is not what one would call fresh however, so while we expect to see a number of hardware improvements, the faux-leather treatment that Samsung has been applying to much of its Galaxy line of devices is part of the package. The design feature will lend a nice look to the new Chromebook which will hopefully not impact the current $250 price tag too much.
source:
@evleaks
(Twitter)