New Kyocera touch screen "like pushing real buttons"
9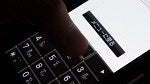 At the Digital Contents Expo 2012 in Japan, Kyocera lifted the curtain off a display panel which can provide the "click" feeling of physically pushing a key and deliver a variety of other tactile sensations.
This technology takes traditional haptics to a whole new level and is nothing like the SurePress technology used by RIM for the
BlackBerry Storm 2
. By using piezoelectricity, the screens can vibrate back and forth with incredible speed thus mimicking the sensation of actually touching a button. Moreover, the feedback generated can also provide different sensations for different types of "buttons." Depending on how it is programmed, the panel can reproduce a solid "click" or softer "gel" type feedback. Such differences in feedback would be possible by adjusting the frequency of the electrical current. Innovations like this would go a long way to help with typing accuracy.
According to a reporter from RocketNews24, this is the real deal, "The buttons on the touch screen actually feel like touching the real thing…" The applications for this kind of technology are easy to grasp, cars, medical devices, gaming consoles, tablets and of course, smartphones, all of which would be measurably easier to use in many ways with screens like this.
Kyocera is forecasting that these panels will be in over 2 billion devices by 2017.
sources:
ITmedia
(Japan) via
RocketNews24