New HTC RE camera to be released next year
7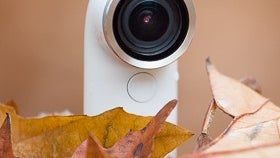 Launched in the US about a month ago, the unusual-looking HTC RE camera is one of this year's most curious products: it's (obviously) a camera, but it doesn't offer a viewfinder, instead letting you quickly and easily shoot photos and videos with just the press of a button.
At the moment, the RE camera costs $199, and we've yet to find out if sales are going well or not. Regardless of that, HTC is already planning a second generation of the device.
According to Focus Taiwan, HTC North Asia president Jack Tong confirmed that a new RE camera would be released sometime next year as a product for "the mass consumer market." While there are no details on the features and design of the upcoming HTC RE camera, we guess it will still be water-resistant, looking not too different from the original model.
HTC plans to estimate the success of the new RE camera based on how many units of the current version it's selling. For example, the company assumes that about 5% of the 8 million customers who buy smartphones yearly in Taiwan would also get the first-generation RE camera - but if the 5% threshold can be crossed, the next model "will be easier to sell."
When we
reviewed the HTC RE camera
(pictured below), we found it quite user-friendly, at the same time noting that the device has some minuses that potential buyers need to take into consideration. Well, maybe the second-generation model will impress us more.