New Google goods for iPhone and Android users
4

Rejoice iPhone and Android users, Google loves you! Two of the features offered by the Internet giant are updated and will offer new functions and easier usage.
The Gmail for mobile now has a new rendering engine, which makes it faster and more feature rich. It can even be used if there is no internet connection. You'll still be able to read recently opened messages, and even compose new ones. In order to manage messages easier, there is now a new the floating bar, that appears when you mark a message, follows you when you scroll up and down in your inbox and gives you access to functions such as archive, delete, and different types of marking (read, unread, add star). Additional improvements include the rearrangement of the search box and redesign of the Labels. Check the video below to see a demo of these updates.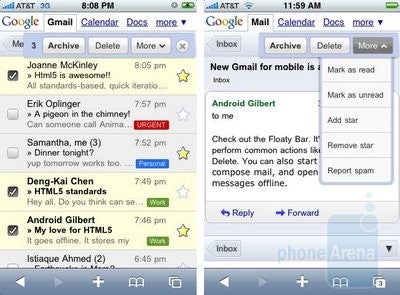 Gmail with floating bar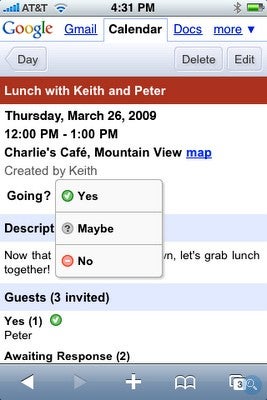 Mobile Web Calendar
And what about the Calendar functionality? If you have one of the two operating systems, you can now edit the events. You can change your attendance status, details, and add or remove guests. Just like the Gmail, this can be done even if you got flaky network – the Calendar will start up and show your last viewed events.
These new goods are supported by iPhone OS 2.2.1 and up and all Android-powered phones (well, they aren't too many). They are available only in English for now, but more languages will be supported soon. Try them and share your experience with us. Is that the right direction for the mobile services?
source:
Google Mobile Blog
,
more