New Gallery app taken from Android 2.1
This article contains unofficial information.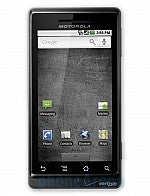 Even though the
Motorola DROID
was recently updated to Android 2.0.1, the anticipation is growing for the Android
2.1
release, which is expected in a few weeks. If you are wondering what some of the changes might be, then you may want to try the
new Gallery app
that was recently leaked from an Android 2.1 beta build. We tested it on a Motorola DROID and it worked flawlessly. After installing it, you will have two "Gallery" apps listed, so be sure to select the 2nd one in the apps menu. When you run it for the first time, it will load and cache all the images and videos first, so prepare to wait a few minutes if you have a lot of saved data. Once its finished, it shows a new 3D type of interface where you swipe side-to-side to select different folders, such as Camera and Wallpaper. Clicking on the Camera folder will show thumbnails for all the pictures and videos that you've recorded with the DROID, where you can easily move through them by swiping across the screen, or by using the horizontal scroll bar at the bottom. Pressing the display icon on the top-right will organize the images by the date and time taken. When you select an image to view full-screen, you can now "flick" across the screen to move to the next image, instead of having to press that annoying arrow button on the side. Even though this is not the final product, we like what we've seen so far. Just be sure to remove it once Android 2.1 is officially avaliable, so that way you'll be sure to have the final Gallery app installed.
Download from
Mediafire
source:
HowardForums
and
AndroidForums