New Galaxy S III ads show how easy sharing is, don't mention it only works between S IIIs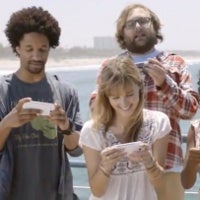 The
Samsung Galaxy S III
is without a doubt the most anticipated Android handset for the year so far, and while it's already out on the majority of carriers across the globe, in the US customers are still waiting for it to arrive on operators like Verizon Wireless. This will happen in just a couple of days, but in the meantime Samsung has released a series of ads about the Galaxy S III.
Luckily, this time they've all got a positive vibe to them, not bashing the iPhone or any other device directly (well, there's the slight sharing jab, of course), but rather focusing on what the SGS III can do. In this case it's AllShare, a feature that allows you to share images and video across devices easily with no wires required. It all works smooth once you set it up, but Samsung forgets to mention that the sharing feature will run only between Galaxy S IIIs and no other phones.
But the Galaxy s III commercials are still miles ahead of these
Toshiba tablet ads
, aren't they?
source:
Business Insider