Toshiba posts sleazy tablet ads, pulls them shortly after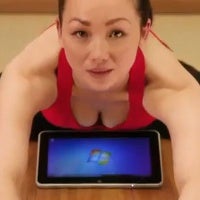 Toshiba is a company with over 200,000 employees across the globe, but this here series of ads for its tablet look amateurish at best and sexist at worst. What looks like a Toshiba Excite tablet ends up beneath a generous display of a woman's cleavage, occupying the larger part of the frame, so it's not exactly clear what's the message the company is trying to convey.
The series of ads are available in both English and French for Canada, and were posted on YouTube, and then quickly made private.
In another one of the funny commercials an actress's buttocks are getting the limelight as she is longingly gazing at a... copier. So much for subtext! While the commercials can no longer be seen on Toshiba's channel, a user managed to repost one of them, so you can get an idea of what's it all about. Are you with us on the weirdness of such advertizing? Let us know what you think in the comments below.
source: Toshiba