New EVO 4G models have different displays
This article contains unofficial information.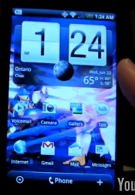 A couple of weeks ago, some disheartening news started to appear about the display on the HTC EVO 4G. Some were reporting that the glass was beginning to separate from the body of the phone. Others were complaining that unless the device was grounded by being held in your hand, the touchscreen was not being fully responsive. And the situation is getting worse. One EVO 4G user compared an older unit with one recently purchased and found the colors on the latter unit to be washed out when compared with the former model. It seems that HTC has switched its source of displays for the nation's first 4G enabled handset. There are two different versions of the phone. The 002 model uses a Novatel LCD display while the newer 003 models are equipped with an Epson LCD screen. If you are interested in knowing which model you have, head over to To check your model head over to Settings > About phone > Hardware Information > Hardware version. Also, check out the video below.
HTC EVO 4G Specifications
|
Review
source:
AndroidandMe