New Apple iPad announcements may come October 21st
20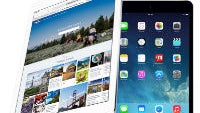 We know that there are new iPads on the way, because... well, obviously there would be. It's a new year, which means refreshes on all flagship devices. As usual, Apple likes to have some time between the iPhone announcement and iPad, and now we're getting word that the new iPads will be announced on October 21st. The news comes via unnamed "sources familiar with the matter" from
The Daily Dot
, but it seems reasonable enough, because Apple tends to target the Tuesday around that date in October. Last year's iPad event was held on October 22nd, and the 2012 event was on October 23rd. So, the unnamed sources could just as easily be a calendar and an educated guess.
Almost definitely on the docket for the event will be refreshed versions of the iPad Air and iPad mini. There hasn't been a ton of rumors around what changes to expect, but they will likely be mostly internal updates, like the new A8 chip, as well as the likely addition of TouchID sensors on both Apple tablets. The report also says the newest version of OS X, Yosemite, will be released right after the event, and that will bring support for the Continuity features between MacOS and iOS.
The real question surrounding the announcement is whether or not the rumored 12.2-inch iPad Pro will be part of the event. Apple had promised new product categories announced this year; and, we have gotten those with the 5.5-inch iPhone 6 Plus, and the announcement of the Apple Watch. There have been rumors the larger iPad won't be released until next year, but that doesn't necessarily mean we won't see it announced now, just as we did with the Apple Watch.