New Android commercial touts cloud syncing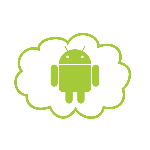 We've seen a whole bunch of commercials for the Galaxy Nexus, most of which Google has used to show off the new bells and whistles that are part of Android 4.0 Ice Cream Sandwich, but this time Google wants to show off a feature that has been a part of Android for a while now: cloud syncing. We're a little bit curious why Google is putting this out now instead of using it to counteract Apple's marketing machine back when iCloud was announced last June.
Google has been syncing contacts, calendar, apps, and settings for a while in Android, and of course there is also syncing for Docs, photos, books, music, and any other Google product you may use. Of course, Google has never been all that great with its marketing campaigns, especially when it comes to counteracting competitor marketing, dispelling inaccurate press, or predicting user concerns. Still, it's pretty fun to see the Android mascot as an orchestra conductor.