New Android 4.0 UI could mean the end of Android fragmentation
20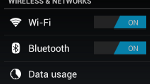 Trying to cut back on the fragmentation that Android fans and foes alike have complained about, Google is now requesting from manufacturers that the code for the
stock Android 4.0 UI, known as Holo
, be included on all new phones. Failure to do so will result in Google taking away
the manufacturers ability to access the Android Market
. The new policy will still allow the handset producers to run their own skin over Android 4.0 just as long as Holo remains on the phone.
One major advantage to following this policy is that manufacturers will be able to
update their handsets to the latest Android OS faster
by keeping their skin apart from the OS it is running over. And by keeping menus and widgets all looking the same, it will mean that developers will have an easier time developing an app, knowing that it will look, feel and run the same on all Android 4.0 model smartphones. There will be three different Holo themes,
Theme.Holo
,
Theme.Holo.Light,
and
Theme.Holo.Light.DarkActionBar
.
It certainly sounds like the age of fragmentation is coming to an end for Android and Google has done a very wise thing by allowing faster updates along the platform while still allowing manufacturers to impose
some form of individualization
on their Android models. If you want to make sure that the Android phone in your hand is following the new policy, simply look for the Android Market. If it is on the phone, you know that the manufacturer is following the new rules.
source:
AndroidDevelopers
via
AndroidCentrral