New Amazon Echo models are introduced; pre-orders accepted now with shipping taking place in Q4
7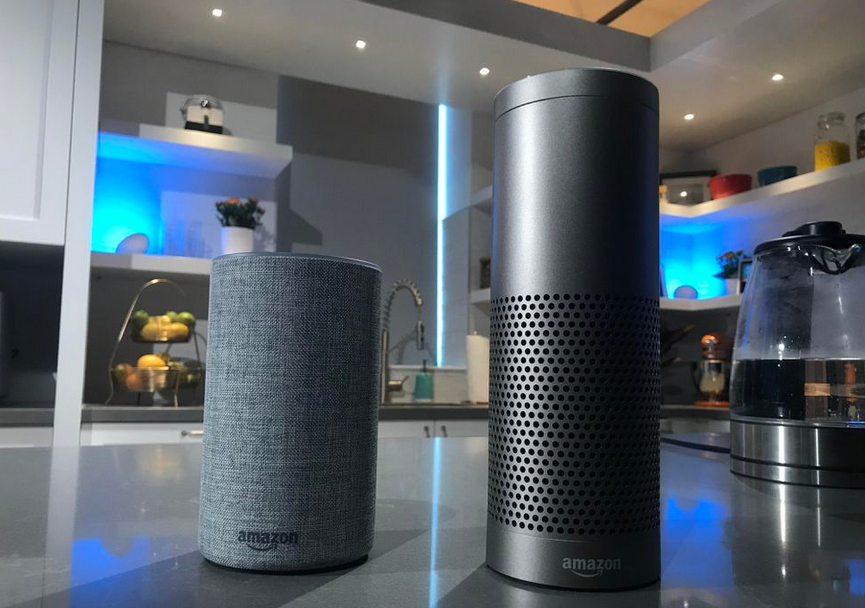 The revised Amazon Echo at left, and the Amazon Echo Plus at right can both be pre-ordered starting today
Amazon, the company that created the smart speaker category with the Amazon Echo in 2015, added the smaller hockey puck looking Amazon Echo Dot in October 2016. Earlier this year,
the Amazon Echo Show was released with a 7-inch screen
. And today, Amazon unveiled its new smart speaker lineup starting with a re-designed Echo model priced at $99. That is $80 or 44% cheaper than the price for the original Echo. A pack of three will be sold for $130, and different cloth clovers can be placed on the unit to spruce up its looks, or make it coordinate with the room where it will be used. The revised Echo is shorter and a little more rotund than the original model. It features an improved speaker and voice recognition capabilities.
The Amazon Echo Plus looks very much like the original Amazon Echo, sporting a tall plastic body. However, this unit will feature improved Dolby sound and enhanced voice recognition. The inclusion of a ZigBee smart home hub makes it easier to connect to smart home products. Instead of using apps, simply saying "Alexa, discover devices" will automatically allow the Echo Plus to control smart locks, smart light bulbs and other smart home accessories. This version of Amazon's smart speaker will cost $149.99, and includes a Philips smart light bulb. The Amazon Echo Plus will be available in white, black and silver.
The Amazon Echo Spot is a small smart speaker with a round 2.5-inch display. The Spot sports Amazon's best voice recognition system according to Amazon executive Dave Limp. It comes with four microphones and doubles as a smart alarm clock. It also can be used for video calls. Expected to ship in December, the Amazon Echo Spot will cost $129.99. Amazon additionally introduced today an accessory named the Amazon Echo Connect. With a $35 price tag, this device allows you to turn your Echo device into a landline speaker phone. The unit will be launched next quarter.
Pre-orders for the Echo, Echo Plus, Echo Spot and Echo Connect will begin today from Amazon, and all of these products will be released during the fourth quarter.
Amazon also unveiled Echo Buttons, which are Bluetooth connected buzzers that connect to Alexa for games. Think of them as being similar to the buttons that contestants press on Jeopardy when they have the answer to a question (being Jeopardy, we should say that the buttons are pressed when the contestants have the question to an answer). The buttons will cost $20 for a pack of two, and will be released during the upcoming holiday season.
Today's announcement introduced the first update for the original Echo since its launch. Back then, the Amazon Echo was the only smart speaker in town. Now, Amazon has plenty of competition in the marketplace as rivals such as the Google Home, the Microsoft Invoke, the Apple Home Pod (to be released in December) and units upcoming from Sony and Samsung have turned this into a crowded and competitive market.
source:
CNET