New AT&T ad shows how the Lumia 900 is "beautifully different"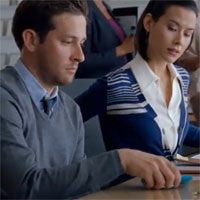 While the
"Smartphone Beta Test" spots
are hilarious, they may not be appropriate for all venues, especially considering that AT&T sells those "beta" phones. AT&T has released another Lumia 900 commercial that shows how the handset is "beautifully different" with a little less stick poking at competitors.
The ad humorously portrays a guy attempting to impress a woman with his new Lumia 900. It shows the curved, sleek design of the handset then talks about some Windows Phone specific features such as Live Tiles and People Hub.
Overall it's a nice way to show off the phone and get a chuckle from the audience, all while not alienating the rest of AT&T's portfolio.
source:
WPCentral