Neva wants to allow you to communicate via ski poles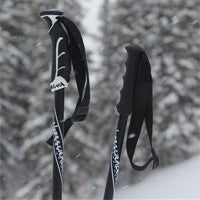 We've seen more than our fair share of great ideas make their way through Kickstarter. Anthony Griesel of Salt Lake City, UT is trying to get his new project, Neva, off the ground and we must say, it is a brilliant idea.
If you've ever partaken in winter sports such as skiing or snowboarding, you know that when your phone rings, you have to decide if it's worth freezing your hand for a few seconds to check it. Also, if you're on a lift, you need to exercise extra caution so that you don't spend the next hour trudging through the snow attempting to locate your device in the woods.
Neva is a ski pole that integrates a 0.96-inch OLED display on the top of your ski pole that supports gestures to communicate with your device via Bluetooth. The display can show caller ID information and allow the skier to answer the call with a finger swipe. Currently it can display short text messages and may add text to speech in the future. When not communicating with the rest of the world, Neva integrates with SlopeScience.com to give you current slope angle and aspect of terrain, time, temperature, and elevation literally at your fingertips.
Neva will also come with an app that is compatible with both Android and iOS that supports additional features such as tracking various stats and routes while you ski.
It looks as through the initial run will be targeted at skiers only, but hopefully if Neva performs well, Anthony will consider offering this same tech into a wearable wristband or something of the likes so snowboarders could take advantage of this great idea.
If you want to get on board with Neva and help bring better balance to your skiing and mobile life, head on over to Kickstarter to pledge some cash to this project.