Netflix's Fast Speed Test service gets native iOS and Android apps
2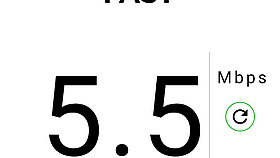 Back in mid-May, Neflix rolled out a website that enabled users to
test the speed of their connection to the Netflix content-streaming servers
. Yesterday, the insanely popular video streaming platform launched Android and iOS apps for its speed-testing service.

While there are many options available for checking the speed of your Internet connection, the Fast Speed Test specifically caters to those who have issues with reliable high-definition Netflix video streaming. This is because, unlike similar speed-testing tools, Fast only measures the speed of the connection to the same servers that Netflix uses to stream video to its users.

In a similar fashion to the web-based Fast.com speed test, the iOS and Android apps are quite simple in nature, which is a quality given that they're designed with a single purpose in mind. There are no servers to select: just open the app and it will instantly start testing the speed of your connection to the Netflix servers.

After about a minute or so, the app will provide a rating in Kpbs. For more advanced (and more generic) Internet bandwidth measurements, the Fast Speed Test app also provides a link to the Speedtest website, where you can download the various apps or perform a test in the browser.

Here, check out these screenshots for a feel of the design:
What do you guys think of the new Fast Speed Test app? How fast is your connection to the Netflix servers (screenshots or it didn't happen)?
Recommended Stories