Netflix confirms it isn't making a BlackBerry 10 app
28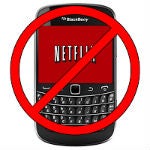 Bad news if you've had your eye on the new BlackBerry 10 devices, Netflix has confirmed that the company is not making an app for the BlackBerry 10 platform at this time. The news comes directly from a Netflix spokesman who was talking to
AllThingsD
recently.
There had been rumors that BlackBerry was in talks with Netflix, but apparently those rumors were either false, or those talks failed, because a Neflix spokesman told
AllThingD
that the company has "no current plans for a BlackBerry app." The only explanation given was that Netflix doesn't have much incentive to develop for BB10 because basically right now there is no BB10 user base.
Of course, Windows Phone had no user base to speak of when Netflix first released an app for that platform (just about a month after WP7 launched), but apparently Netflix doesn't have as much faith in the future of BB as it did for WP. Though, saying that the company has "no current plans" does leave the door open if something changes.