Net neutrality ends this Monday, June 11th; motion to keep it alive could die in the House
7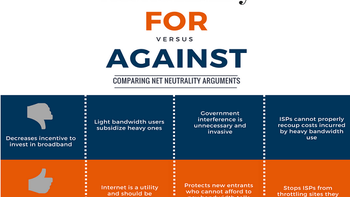 Last month, the Senate took the first step in a last ditch effort to save net neutrality by
passing the Congressional Review Act (CRA) that would overrule the FCC's decision
to end the regulation. This coming Monday, June 11th, net neutrality is scheduled to be phased out. Originally put in place by the Obama-era FCC, the regulation prevents ISPs and wireless carriers in the U.S. from charging streaming content providers for a "fast lane" that would disseminate their media at a faster data speed and at a higher resolution than the competition. Eventually, these extra charges could be passed along to the public. Net Neutrality also blocks the wireless operators and internet firms from deciding not to show certain content to subscribers that they don't agree with.
The CRA passed by the Senate aims to reverse the misleadingly titled "Restoring Internet Freedom Order" that was passed by the Trump-era FCC, led by chairman Ajit Pai. As we pointed out at the time of the Senate vote, the CRA now has to pass the House where the Democrats that support the Act are greatly outnumbered. Getting the House to vote on the matter requires a special discharge petition to be signed since House Speaker Paul Ryan (R-Wisconsin) does not support the
motion
. 218 votes are needed to allow the House to vote, and there are currently 170 members on board.
Even if the motion's supporters find 48 members who want the matter to come up for a vote, the Act probably will not pass the House. And if it should somehow get through, it faces a presidential veto that most likely won't be overturned.
Net neutrality is becoming a political issue with many Democrats planning on using it as they campaign ahead of the mid-term elections. And
some states are taking matters into their own hands
. California, for one, is close to passing legislation that would force ISPs and wireless carriers to adhere to even stricter net neutrality regulations. New York is another state where the legislature is discussing passing its own net neutrality law.