Need For Speed: No Limits trailer smells of fantastic graphics and burnt rubber
32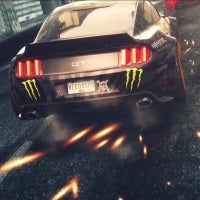 Even if you aren't a car person, there's no way you aren't getting amped up by Ken Block and his hard driving. But what does this have to do with Need For Speed? Well, it doesn't take a genius to put two and two together, right? In the first trailer for the upcoming Need For Speed: No Limits, we can see Ken Block spends his downtime from inhuman drifting playing none other than the new game.
We can tell that this NFS instalment is about street racing and cop changes. We can also tell the graphics are pretty awesome. Some things never change, do they? The trailer mixes in-game scenes with footage of Ken and his souped up Mustang. At times, it's difficult to discern the rendered graphics from the real-life scenes of utterly fantastic car abuse.
The studio behind No Limits is Firemonkeys, comprised of the former Firemint Studios and Iron Monkey Studios. The former made Real Racing 3, while the latter was involved with Need For Speed. In other words, this is like BMW & Mercedes working together on a supercar. Hopefully, the new NFS game will fulfil our high expectations. It should release soon, so we'll be keeping our eyes peeled.