Nearly everybody in Britain lies on their smartphones, and this infographic has the stats to prove it
15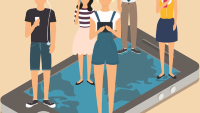 We don't mean to paint an unsightly picture of English people. We love them because they have smashing accents, a rich and colorful English vocabulary, and are jolly good tea-sipping chaps in general! However, Britons do lie a lot. And we mean, a lot!
The ugly truth is revealed by CompareMyMobile's new infographic, which the trade-in comparison website put together from the results of a survey it ran recently. Asking over 1,100 people about the most common lies they tell over the phone, CMM came up with some fascinating (and mildly worrying) stats!
According to the infographic, a whopping 68% of those surveyed have purposely ignored a call or text to avoid going on a date. Good luck trying to meet someone over there! Moreover, 54% admitted to dodging a phone call to avoid doing someone a favor, and as many as 13% aren't shy about ignoring phone calls from their boss!
In some cases, it is imperative to have a proper excuse for dodging someone's call. The infographic says that the most popular one was 'My phone was on silent' (56%), with 'I had no signal' (25%), 'Sorry, in a meeting' (9%), and 'My phone is broken' (5%) trailing behind. In this line of thought, the most common reason for people to sidestep calls and texts is to avoid an event they don't want to attend. Classic introvert move, right there!
Everybody lies.
CMM founder and director Ashley Turner reflected upon the results with his usual lines of wisdom – "While technology brings us closer together by allowing us to talk to people on the other side of the world, it also opens a whole new gateway to lies which can be told." It's hard not to side with him in this case!
The short but entertaining infographic is available for your viewing pleasure in the gallery below.
source:
CompareMyMobile