NVIDIA to license its Kepler GPU core to grab more from the "explosion of Android devices"
6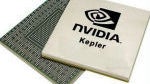 NVIDIA isn't content with the number of Android devices that use its Tegra chipsets and wants to get more of the market, and the plan to do that looks like the company will license its Kepler GPU core to other chipset manufacturers. NVIDIA hopes that doing this will enable it to get more from the "explosion of Android devices".
Basically, NVIDIA is tired of seeing its revenue from the PC market dropping as the PC market itself gives way to mobile devices, and the company wants to be more integrated in the mobile revolution. So, NVIDIA is going to license its "GPU cores and visual computing patent portfolio" to manufacturers working on mobile processors.
NVIDIA has done this before, and had licensed its GPU core design to Sony for use in the PlayStation 3. NVIDIA says that this new world "presents an unprecedented opportunity to accelerate this effort" because so many companies are building Android devices.
It will start by licensing the Kepler GPU core, which supports DX11, OpenGL 4.3, and GPGPU. It will also license its visual computing portfolio, so companies can "develop their own GPU functionality".