NASCAR to allow user-customizable viewing on mobile devices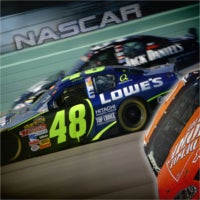 Accodring to NASCAR managing director of digital platforms, Colin Smith - the one downfall of trying to enjoy NASCAR on TV is the fact that it just cannot capture the grandure of the event – there are just way too many drivers, lots of action and plenty of noise, that the viewer at home just misses out on.
Mr. Smith talked about app development, aimed to help remedy some of said flaws. The plan is to allow the fans at home to use their mobile devices as controllable monitors of sorts, by giving them access to different live cameras on the track, customizable news, leaderbords and even an animated 3D view of the race, enabling users to view specific cars from different angles.
The whole app revolves around the idea of complete customization, allowing the user to feel one step closer to the actual race track. For example – if one goes to a live race to follow their favorite driver, they will have their eyes pinned on that one car, following its every move, until the race is over. This is what the app is trying to mimic – instead of being forced to watch what the TV crew decided would be most interesting – you are free to view exactly what's interesting to you.
Initial plans were to outsource development, but NASCAR chose the path of building it on its own, assuring their control over the app. Nevertheless, they did work with partners Telescope, who helped build the personalization and dynamic parts, and HP, for the fan and media engagement center.
What the company is hoping to achieve is to boost their mobile commerce income. According to Smith, 65% if viewer traffic comes from mobile devices, but only up to 15% of the company's revenue is generated from its current app.
source:
VentureBeat