Mystery solver's game Her Story finally gets ported to Android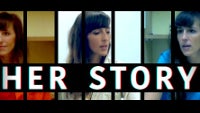 Her Story is an alternative take on a mystery-solver's game, which has been available for PC, Mac,
and iOS
for a while and finally made the jump to Android.
The player is tasked with uncovering the truth behind a murder case from way back in 1994. Your only way to figure out what happened is to watch a series of taped interviews of a woman giving her testimony. This may sound easy enough, but the problem is that these old archives are not exactly well sorted. You can look for videos via keyword search and that's all. So, what you need to do is listen through the stories the woman is telling, figure out the important bits, and look for further interviews that elaborate on the words you've picked out.
Obviously, this is a very story-driven title, that basically requires you to sort through videos until you get them in the right chronological order. It has game critics raving over its Memento-like narrative, but some gamers are not happy with the gameplay, so word of warning – it's more of an experience than a conventional game.
Recommended Stories