Mystery box shows Motorola device headed for Verizon (X+1?)
6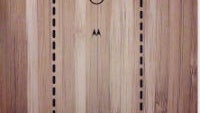 We know that the Motorola Moto X+1 is coming, and we are expecting/hoping that it will be landing relatively soon. Those hopes have been a bit troubled recently, because we haven't been seeing as many of the usual leaks surrounding a major release like this, but a new mystery box may hold the key.
The leak doesn't really contain all that much, except for a box labeled with Motorola Mobility model XT1096. The box also mentions that it contains a "pre-commercial unit owned by Verizon Wireless". Assuming the box isn't a fake, this would mean that someone out there has their hands on a Verizon model Moto X+1. The original Moto X carried model numbers ranging from XT1049 (Republic Wireless) to XT1060 (Verizon), so a model number of XT1096 would be somewhere in the range you might expect from the Moto X follow-up.
With luck, we'll be getting real info soon enough, so stay tuned. And, if any of you know anything, be sure to hit us up on the
tip line
.