Mysterious Sony Ericsson smartphone may be a variant of the Xperia ray, or just about anything else
5
What we have here, folks, is a
mysterious smartphone made by Sony Ericsson
that has just recently made the world aware of its existence. Mere days ago, the device popped up, albeit not in person, on the website of Antutu, where it was listed with its
SK19i
model name.
For those of you who are not familiar with Antutu, it is a popular benchmark app made for Android devices that does pretty much the same thing as Quadrant – it tests the performance of your handset or tablet by subjecting it to a series of tests and gives it an overall numeric score. The Sony Ericsson SK19i was listed among the scores of the devices, which have been benchmarked, meaning that there is at least one out there, which is operational and is probably being tested as we write these lines.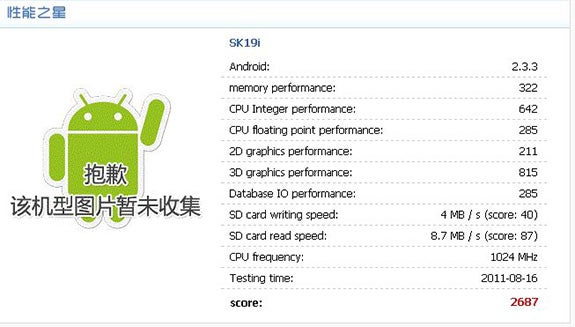 The Antutu benchmark results revealing the existence of the Sony Ericsson SK19i
What kind of device, however, we are dealing with is still a matter of speculation, but we have a couple of hints leading us to believe that the SK19i might be a version of the
Sony Ericsson Xperia ray
equipped with a slide-out QWERTY keyboard. First of all, the K in the SK prefix is a solid evidence that the device will have a hardware keyboard indeed as the manufacturer always puts that letter in the model names of its "pro" smartphones. Another clue that we have is that its Antutu score suggests it will pack a single-core chip clocked at 1GHz – just like what the Xperia ray has under its hood. Furthermore, if we take the Sony Ericsson Xperia mini and Xperia mini pro models into account, they bear the ST15i and the SK17i model names respectively. Knowing that the Xperia ray has been given the ST18i model number, it seems logical for the SK19i to be similar to the former, yet with a physical keyboard added to it.
All of the above, of course, is pure speculation, so it would be a good idea to take it with a grain of salt for now. If you want to make a guess yourself as to what the SK19i might turn out to be, feel free to share your suggestion by dropping a comment below.