Mysterious Motorola phone at the FCC could be next-gen Moto E
3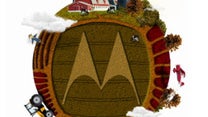 Another day, another mysterious smartphone visits the FCC, begging to be examined by curious geeks like us. This time, we have our hands on a Motorola-branded handset, which is listed under the ID IHDT56QF1 and bears the cryptic model name 4583.
As of this writing, very little is revealed about this particular Moto model. It does support Wi-Fi b/g/n, Bluetooth 4.0, GPS, Wi-Fi hotspot, and operates on 850/1900MHz GSM bands, but that's pretty much a given for every modern handset. What's more interesting, however, is that the size of the device doesn't match that of any recent Motorola smartphone, leading us to believe that we're dealing with a brand new handset. The smartphone measures 2.64 by 5.11 inches (66.96 by 129.9 millimeters) and has a diagonal size of 5.39 inches (136.9 millimeters). Mind you, that's the size of the phone itself; these are not the proportions of its screen. As for the FCC label, it is placed on a
"permanently attached, retractable plastic tab"
–
a clear indication that the phone has a sealed, non-user-removable battery.
One clue we can't omit mentioning is the phone's lack of LTE connectivity. In other words, this new Motorola model is most likely an entry-level handset. As a matter of fact, we could be looking at a successor to the
Motorola Moto E
– rumor has it that the
latter's second edition is in development
and will feature a 4.5-inch screen. The aforementioned proportions are highly suitable for a display of this size, we must say. Of course, our guess could be wrong, and the mysterious Motorola smartphone could end up being a totally different handset. But if that's the case, what could the phone be? Feel free to share your expectations in the comments section below.