Mozilla Firefox now features Private Browsing with Tracking Protection, Android version downloadable today
5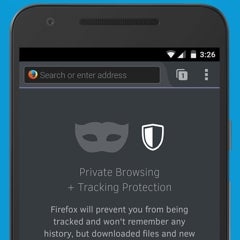 Mozilla today updated Firefox with a new feature that makes private browsing even more private. Mozilla is calling the new feature Private Browsing with Tracking Protection, mentioning that this "blocks parts of Web pages that may track your browsing activity."
At the moment, no other popular browser is offering a similar feature (for example, Google Chrome's Incognito mode clears your browsing history, cookies, and search history after you close a page, but does not block trackers that may collect information from you when you visit websites).
Private Browsing with Tracking Protection is available on Firefox for Android, Windows, Mac, and Linux. In case you don't need Tracking Protection, the feature can be turned off from Settings -> Privacy. You can get the newest version of Firefox for Android via Google Play (see the first source link below) - the download is free, of course.
Later this year, Mozilla plans to launch a
Firefox app for iOS
, which will almost certainly include Tracking Protection. Have you used Firefox until now on your smartphone? If not, will the new privacy feature make you want to use it?
sources:
Google Play
,
Mozilla