Motorola's Gobi equipped mobile computers might lead to cell phone users changing networks at will
3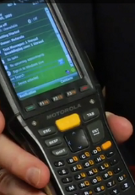 Today's cell phone has a number of radios installed under the hood, each one pre-set to a certain frequency to handle a specific job. A good example of this is the Nokia N8 which will have more than 9 radios. 4 of them cover the entire GSM/
EDGE
spectrum while 5 of them cover 3G/3.5G bands. Then you need to have one for Wi-Fi and one for bluetooth.
Motorola has just launched a pair of Windows Mobile 6.5 powered mobile computers for enterprise use only. Both units are equipped with the Qualcomm Gobi. The Gobi is used on laptops and allows the user to tune into any GSM or CDMA frequency. Anywhere that there is a signal being broadcast, you will be able to tune into it. And while the technology isn't available for cell phone use now, eventually a Gobi equipped handset will find a signal for wireless broadcasts and tune your phone to that frequency, allowing you to use your phone wherever a signal can be detected.
The Motorola devices are the first mobile products that allow the user to select the cellular network that he wants to use. Imagine being able to choose which network you want on your cell phone at any given time. It might be some time away from being used on consumer handsets, but we are one giant step closer with this launch from Motorola.
source:
Motorola