Motorola to replace defective Nexus 6 devices suffering issue with detaching back-plate
99+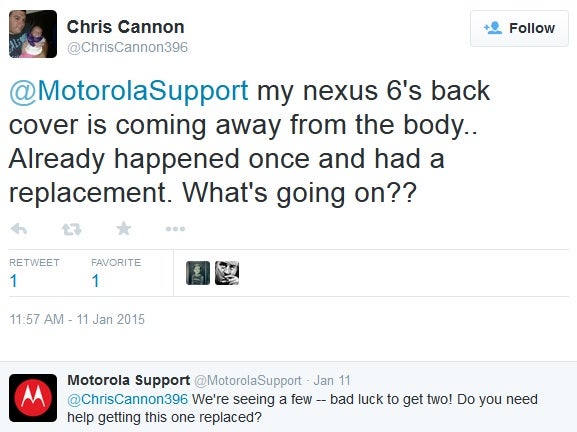 We have not been seeing widespread reports of this issue, but there appear to be a few
Nexus 6
devices suffering a build-quality failure where either the back-plate loses adhesion to the chassis of the device, or the back-plate is pushed off due to an expanding battery, depending on whose account you read.
Where one issue could be construed as a simple manufacturing deficiency, the other issue over an expanding battery is possibly cause for a bit more concern.
One Nexus 6 user took to Twitter to contact Motorola Support over having not one, but also a second replacement Nexus 6 lose adhesion on the back plate. Another Nexus 6 user claimed on Reddit that the issue of his device disassembling itself was due to an expanding battery.
To their credit, Motorola acknowledges that it has seen "a few" bad devices in the mix and is prompting customers to contact the company's customer care team. You can also try bringing the device back to the point of purchase as having something like this happen (without dropping it) is a manufacturing defect.
By accounts we have seen so far, it looks as though Motorola and the carriers have been on the up-and-up for replacing affected units, so if you find yourself with a defective Nexus 6, you should not encounter too much of a problem getting it replaced.
Have you had any issues with your Nexus 6?
sources:
Phandroid
via
Android Authority