Motorola stockholders approve Google buyout
8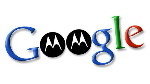 It was something of a formality since the deal had been agreed upon in principal already, but the Motorola Mobility stockholders met today and voted to approve the buyout by Google. Of course, this doesn't mean that the deal is free to proceed, because the U.S. Department of Justice is still reviewing the plan.
Motorola Mobility has said that the meeting represented about 74% of total outstanding shares in the company, and that "approximately 99 %" voted in favor of the buyout by Google. That is a pretty overwhelming majority of votes. Still, we'll have to wait and see if the government finds reason why this acquisition shouldn't take place.
The theory is that decision should come sometime next year, but no one is quite sure how long the process will be. But, at least this formality is out of the way. Now we can get back to arguing over whether or not, if this deal goes through, Google is going to suddenly transform into a different company and destroy the entire Android ecosystem by abandoning its long-held stance on openness in order to work exclusively with Motorola. That'll be a fun use of our time.
source:
Motorola Mobility