Motorola prepares 8MP cameraphone?
4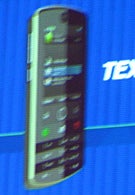 Gsmhelpdesk.nl has posted information on four phones, which according to them will be part of the 2008 product line of Motorola. We are rather skeptical about it, but will post this information. All phones are with code-names, which is typical considering there is lots of time until they are released.
Motorola SKARVEN
is 8-megapixel cameraphone with optical zoom and 2.8" inch, 16 million color display. Similar to the Z8, it uses the kick-slide form-factor but judging from the blurry image, we guess it will also have touch-sensitive buttons. If this information is right, it will be one of the most advanced Motorola phones.
is rumored to be the first phone, launched in cooperation with Kodak. A 5-megapixel candybar, it is also targeted as dedicated cameraphone and as rival to the Sony Ericsson K850 and other models from the class. Rumors say it will be available as the Motorola Z12.
The third new phone is the
Motorola TEXEL
which is targeted to the music fans. Similar to the E8, it has multilayered keyboard (nine layers of characters) with "morph technology". This means that each key can display (and respectively execute) nine different functions.
Motorola GENGHIS
is the last phone that the site scooped. It is QWERTY-equipped phone for the masses. Considering the Q-family, it may run on WM6 Standard OS but still this is definitely not sure.
According to the site, Motorola will keep the
ROKR
branding for its music-dedicated phones, but will start other families:
ZOOM
for advanced cameraphones and
MULTI Q
for the Q-like devices that have business-oriented functionality.
source:
GSMHelpDesk via
EngadgetMobile