Motorola launches the MOTOACTV on T-Mobile
6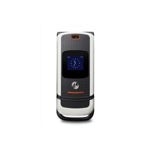 Motorola today announced the launch of the MOTOACTV W450 on T-Mobile. Joggers and the like, rest assured: the phone offers a rubberized outside shell for durability, as well as a 'chin bar' that allows it to be attached to a belt or a lanyard. In what is most likely the best feature of the phone, the W450 allows the user to look up first aid information and health tips through Mayo Clinic In Touch software that is pre-installed on the device.
Motorola, as expected, was upbeat about the launch of the new device and its capabilities. "The MOTOACTV W450 is designed to meet the needs of today's mobileconsumers, from the great outdoors to the corporate jungle," saidDennis Burke, vice president, Sales, Motorola Mobile Devices. "With itssturdy exterior and feature-packed interior, this device will quicklybecome the phone of choice for people with an active lifestyle."
The phone offers a 1.3 megapixel camera, Motorola's CrystalTalk technology, stereo Bluetooth, and a microSD card slot that will support up to a 2 GB memory card. The phone is available on T-Mobile's website today, and can be purchased in either canary yellow or mandarin colors.
Motorola MOTOACTV W450 Specifications
Source:
Motorola