Motorola goes for the funny bone with new social media ads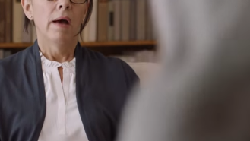 Two guys are talking to their shrink. Pointing to his partner's groin, he complains that the little guy is constantly running out of juice. "Just show it to her", he whispers. The one with the problem gets up and you think that you'll be next hearing the sound of a zipper. Instead, he reaches into his pocket and pulls out a smartphone. "It's out of juice and he charged it this morning," says his partner. "So what do we do?" he inquires of the doctor. Hesitatingly she responds, "Buy a new phone?" And thus ends one of Motorola's new social media ads for the Moto Z line.
Motorola has been pushing its flagship Moto Z line on Twitter, Instagram and other social media locations. Today, the company released a total of three 30 second spots and a six second quickie. Motorola is trying to push the envelope with its advertising to differentiate the Moto Z line from other flagship phones. With the magnetic modular Moto Mods accessories, adding an enhanced speaker, a Hasselblad camera, a projector and extra battery life is a heartbeat away.
Check out all four new Moto Z ads by clicking on the video slideshow below.
source: Motorola (
2
), (
3
), (
4
)