Motorola explains why a "digital tatoo" is the best for unlocking your Moto X
14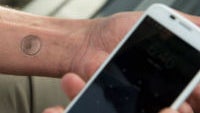 There have been rumors for a while that Motorola was working on some type of tattoo which would let you unlock your phone, and even though that accessory has been
available for purchase
for a few weeks, Motorola is just getting around to announcing it. The idea is sort of an extension of the Motorola Skip, which is the NFC tag that was released when the Moto X first hit the market, except now you can wear the tag.
The "digital tattoo" is aiming to make your device more secure, but make that security less of a hassle. According to Motorola, users unlock their devices an average of 30 times per day; and, with current security like patterns and passwords, it takes an average of 2.3 seconds to perform each unlock. It can be so cumbersome that about 50% of users don't even bother with device unlock security at all. Obviously, tapping your device on an NFC tag is much faster, which is why the Skip was made in the first place. But, Motorola thinks an easier option is the tattoo, which can be worn on your wrist for easy access.
Unfortunately, it may not be the best option when it comes to your wallet. You can buy a pack of 10 tattoos for just $10, but each is only designed to last about 5 days. They are designed to withstand "showering, swimming, and vigorous activities like jogging", but even so that will add up to $73 (assuming shipping remains free) in tattoo tags per year, every year, compared to the Skip, which is a one-time cost of $10 plus shipping. There is also no mention of if you need to retrain your device for each tag every 5 days, or if all tags in the 10-pack are identical. The former would be annoying, and the latter could be a security problem if someone gets their hands on your extra tags.
The tags look nice and are said to be thin and light enough that you don't really feel it. They are made and sold by Vivalnk, and are only available for in the U.S..