Motorola Tao now the Droid for Verizon; device will not have MOTOBLUR
This article contains unofficial information.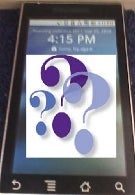 Motorola's Android device for Verizon has had so many name changes that it might rival Eve for multiple personalities. Today, BGR has received word from one of their tipsters that the actuakl name of the phone will be the Motorola Droid on Verizon Wireless. Expected to be introduced the week after next, the Droid will not run MOTOBLUR and will be a "with Google" model. As such, it will be the first Google Experience device to support Adobe Flash out of the box.
Verizon customers, does the lack of MOTORBLUR change your plans, or is the Droid still up there on your smartphone shopping list?
Motorola Tao Preliminary Specifications
source:
BGR