Motorola Q Q9 and Q GSM are WM6 Standard smart-phones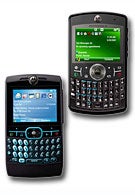 Here at the 3GSM show in Barcelona, Motorola announced a few new phones to upgrade its line. One of the most interesting of them is the new Motorola Q Q9 which is the upgrade to the older Q model, which has been available in CDMA flavor for a long time. Together with it, Motorola AGAIN announces the Q GSM which is actually the GSM version of the first Motorola Q, but having a few advantages over its CDMA brother.
Motorola Q Q9
upgrades the design of the first Q with more rounded curves and overall smoother design – the QWERTY keyboard buttons are now in rainbow-like rows with very little space between each other, which we saw in earlier spy photos. When it comes to hardware, the Q9 is quad-band GSM with high-speed HSDPA support. The camera now has 2-megapixel resolution, compared to 1.3 for the first Q, but the screen is still QVGA 320x240 unit.
As Microsoft today announced the Windows Mobile 6, Motorola also announce that the Q9 will run on its Standard edition. Other features of the phone include microSD card slot and Stereo Bluetooth, packed in 0.46" (11.8mm) thick body , which is just about the thickness of the Q CDMA.
Earlier information showed that the Q9 would also be available in CDMA/EV-DO version.
The
Motorola Q
GSM has exactly the same design as the Q CDMA, and it is in Black. As it is now announced, will ship with Windows Mobile 6 Standard OS and not on OS 5.
Similar in features to the CDMA phone, it has miniSD slot, 1.3-megapixel camera and QVGA display. What is strange is that the Motorola official information talks about Wi-Fi support, which neither the Q CDMA nor the new Q Q9 have. We will check later here at the show if this is true, or a mistake – we guess the WiFi is for the Q9 and not for the Q GSM.
Both the Q Q9 and the Q GSM are expected to launch in the second quarter of the year.
For more live images, check our hands-onreport from 3GSM 2007