Motorola Moto X to come with oversampling-like video technology, combining 4 pixels into 1 'perfect' pixel
30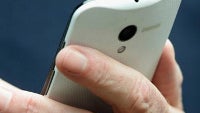 We've heard about that before - the
Moto X
is coming with a 10-megapixel 'ClearPixel' rear camera. Judging by the new Droids Motorola announced recently - the Droid Maxx, Ultra and Mini - that means that the Moto X camera will be able to capture more light and perform better than your average smartphone shooter in low-light conditions.
The Moto X is said to come with 1.4-micron pixels. That number refers to the size of the pixel. It is larger than most of today's smartphones like the 1.1-micron cameras on the Samsung Galaxy S4 and other flagships. A larger pixel collects more light and generally contributes to better low-light performance.
Most interestingly, though, rumors say the Moto X will use a
camera technology similar to the oversampling done on Nokia PureView cameraphones
. There, Nokia combines 7 pixels into one superpixel with most accurate color information.
The
Moto X will do something similar when recording video
. It will combine 4 pixels in a 'perfect' pixel. The Moto X camera is said to record at up to 1080p at 60 frames per second. Motorola also takes sound quality seriously and includes three microphones for
'3d audio recording'
.
Altogether, this should result in one of the greatest smartphone cameras and we couldn't be more excited. Will the first Motorola handset made under Google deliver? Stay tuned as we'll be covering the official announcement tomorrow at around 3pm ET | 12pm PT.
source:
Taylor Wimberly