Motorola Moto X camera samples leak, confirms 10.5MP at 16:9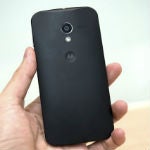 There have been a couple of different camera sample leaks from the upcoming Motorola Moto X recently. The device was rumored to have a 10MP camera, and that at least has been confirmed. Unfortunately, the early leaked images from the device are not all that impressive, even if the device itself looks pretty nice from
the leak we saw earlier
.
The image samples come from the XT1058, which is the AT&T variant of the Moto X. The indoor image is good enough, not that sharp, but not terrible. The issue is the outdoor shot, which looks to have been taken at sunset. There should have been plenty of light to get a clear picture, but the shot is definitely blurry, which is sad to see. This could be due to the fact that the camera has a
2.4
aperture, and simply can't pull in enough light in the situation.
The outdoor shot does confirm that the camera on the device is at least a 10.5MP shooter. The original size of the image according to the Exif data is 4320x2432, which translates to 10.5MP with a 16:9 aspect ratio. Although, that alone is pretty interesting, because very few smartphone cameras shoot in a 16:9 aspect ratio. For example, the iPhone 5 shoots a 3:2 aspect ratio, and the Samsung Galaxy S4 shoots a 4:3 aspect ratio. So, widescreen fans should enjoy that much of the Moto X.