Motorola Moto G7 Power is headed to Verizon, fantastic battery life in tow
0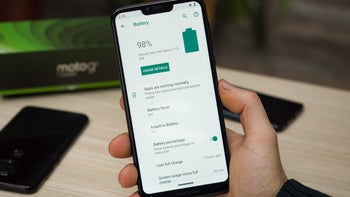 Back in February, when Motorola announced its new
Moto G7 smartphone series
, it mentioned that one particular model -
Moto G7 Power
- would be released via two major carriers: T-Mobile and Verizon Wireless.
T-Mobile
(alongside its
prepaid brand Metro
) started selling the G7 Power last week, and now it looks like the handset is about to be launched by Verizon, too.
We think that the largest US carrier is really close to releasing the
Moto G7 Power
. That's because we discovered a Verizon branded version of the phone on Best Buy's website - there's no launch date attached, but we can see a price: $249.99. What's interesting is that you can
already buy an unlocked
, non-Verizon branded
Moto G7
Power from Best Buy, activate it on Verizon, and pay just $199.99 for it. So, at this moment, we're not sure what advantages the carrier-branded G7 Power could bring, as it seems to be offering exactly the same features as the unlocked model.
It's likely that Verizon will sell the own-branded Moto G7 Power (pictured below) both in stores and via its website, but there is no word on when this is supposed to happen.
The highlight feature of the Motorola Moto G7 Power is its 5,000 mAh battery. This is the
longest-lasting battery
of any smartphone officially available in the US right now, and it can last 3 days on a single charge (with moderate use). The handset also comes with a clean Android 9 Pie interface, a decent octa-core Snapdragon 632 processor, 3 GB of RAM, 32 GB of storage space, microSD card support, splash resistance, and so on.
Admittedly, the
pixel
resolution of the G7 Power's
6.2
-inch display (720 x 1570 pixels) is nothing to brag about, but this is still acceptable for the phone's price. You can find out more about the features of this device from our
Motorola Moto G7 Power review
.