Motorola Moto G (2015) may join the MotoMaker club, model with 2GB RAM rumored
13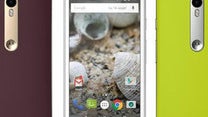 Back in 2013, Motorola did something pretty remarkable – it designed and launched an affordable Android smartphone that was actually good. The phone in question was the
Motorola Moto G
, which sold by the millions. Sure enough, a successor came a year later – the
second-gen Moto G
was bigger and better in a number of ways, all while keeping the same low price tag. And now, a third-generation model is expected to join Moto's lineup. The Motorola Moto G (2015) has leaked numerous times over the past weeks, and today brings one of the spiciest leaks we've seen yet.
It is highly likely that the 2015-edition Motorola Moto G will be eligible to receive the MotoMaker treatment. Users will be able to customize their Moto G extensively prior to having it shipped to their door, judging by this recent leak. From the looks of it, a broad palette of colorful back plates will be available for the handset, and accents will be customizable as well. The front of the handset, however, will be either black or white. The volume and power buttons don't seem to be eligible for customization. On a related note, if MotoMaker for the Moto G does turn out to be a thing, we're guessing that it will be available only in a small number of markets.
While this information is not yet official, it is coming from a trustworthy source – it was evleaks himself who just posted a dozen of renders showing off MotoMaker-ized Motorola Moto G handsets. His leak is coming alongside rumors of a possible variant of the Motorola Moto G (2015) with 2GB of RAM, which is twice what all Moto G models so far have had. In addition, a variant with support for DTV – a mobile digital television format – appears to be in the works, as references to one have appeared in leaked lines of code.
And that's pretty much all the information we can extract from today's leaks. Anyone excited about the third-generation Motorola Moto G? You might want to check out the
latest leaked Moto G renders
, which expose the phone from all angles. No word of an announcement have been passed on yet, but we're getting the feeling that the phone is coming sooner than later.