Motorola Moto 360 on 1-day sale now for half its original price: you can get it for $130
26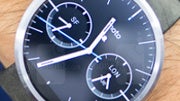 Now, that sounds like the right price for a smartwatch: the well-designed Motorola Moto 360, the first Android Wear timepiece with a round screen, is now on sale for just $130 at Woot.com, and if you're in store for a smartwatch this is the best deal we've seen on one so far.
Note that this is a factory reconditioned/refurbished item, and not a brand new one (but it should still look and function like new).
The Moto 360 was off to a shaky start with many reporting that is slower than expected and featuring underwhelming battery life, but Motorola has pushed out a few updates to the gadget that improve performance significantly and battery life is reportedly in two-day territory now. The timepiece is still rather large and will look best on big-handed fellows (it definitely seems a bit oversized for women, but that's a look some might be after).
For more details about the Motorola Moto 360, you can check out our
full-on Moto 360 review here
. And while you make up your mind, we leave you with this ridiculous-yet-mildly-entertaining Moto 360 song that someone with more free time to spare than us has jokingly written:
All watches are nice, but Motorola makes the best
I keep one on my wrist and two or three taped to my chest
And one in the cupboard and fourteen in the den
Where I stuff them into human clothes and pretend they're my friend

Sure, you can tell time on them but more than just that
You can check the weather, traffic, and latest fashions for cats
Use the voice control function again and again
To talk to your watch and pretend you have a friend

CHORUS
Motorola Moto 360 Smart Watch
Better than a stupid non-smart watch
When everyone has abandoned you and you're stuck at home
Your smart watch will be there with you when you're alone

[bassoon solo]
[timpani solo]
CHORUS
CHORUS
CHORUS (key change)
CHORUS CHORUS CHORUS
[explosions]
CHORUS
[sounds of crying]
[whalesong]
[jackhammers]
CHORUS
[leaked FBI tapes]
CHORUS
end