Motorola Droid 4 is codenamed Maserati, to feature LTE and full QWERTY keyboard
19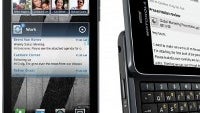 Most of you probably could already guess that a
Motorola Droid 4
is coming sometime in the future, but little was known about what the actual device would be. Now, prototypes seem to be floating somewhere in Motorola land and a member of Howard's forums said he held the device and here's some of its highlights: the Droid 4 is
codenamed Maserati, most probably comes with LTE support and a screen size of around 4 inches
. While the user going by the provocative fonesex moniker didn't know the exact screen measurements, he did say it was smaller than the 4.3 one on the newly leaked Motorola Droid RAZR.
Summing up his impressions, the user said:
"Also just held another stunning phone. Droid 4(G), aka Maserati. REALLY nice phone and form, No D-pad, this does have a removable battery. Unfortunately didn't get to power it up. For those of you who prefer a keyboard, your gonna love this one."
The Droid 4 is expected to be the successor of the current Droid 3, which would mean that it gets at least a 1GHz dual-core processor, an 8-megapixel camera capturing 1080p videos and at least a qHD display, judging by the specs of the third Droid.
Quite interestingly, the same user was among the first to play around with the
Motorola Droid RAZR
and he's got some interesting details to share. Most notably, the 4.3-inch screen seems to be of a much higher resolution when compared to the equally sized qHD one on the Bionic, so that
"the Bionic looked (for lack of a better description) sorta pixelated, while it was hella clear on the Spyder."
Now, that seems like a sure hint about an HD-res screen.
The other interesting thing about the Droid RAZR is that it's confirmed once again to be very thin and running Android 2.3.5 Gingerbread.
The image above is of the Motorola Droid 3.