Motorola DROID Turbo versus Samsung Galaxy S5: first look
11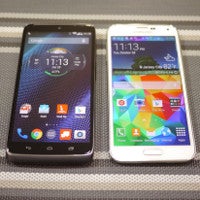 The Motorola DROID Turbo is the new kid on the block, but we wouldn't necessarily classify it as being a kid – mainly because of the mind-blowing specs that it carries along. For one, it's arguably the beefiest, most specs heavy smartphone to arrive in time for the upcoming holiday season. Motorola's position, obviously, is different from where Samsung is currently seated. Its continuing flagship phone for 2014, the Galaxy S5, continues to be a relevant smartphone despite the onslaught of newer, more profound things (like the DROID Turbo) arriving on the scene.
Without meticulously taking apart their designs, it's pretty evident that their designs aren't the most compelling looking from the front – they just look too generic. However, as we flip them around to check out the rest of their bodies, it's quite obvious that the two are worlds apart. Between them, the slightly more aggressive look of the DROID Turbo stands out, partly due to its metalized glass fiber construction (or nylon fiber). The material, in addition to the reinforced Kevlar it's sporting as well, gives the DROID Turbo a solid, sturdier feel. Indeed, the Galaxy S5's plastic casing feels flimsier in the hand, but we can't neglect to mention its water-resistant property. Oh yes, it's something that's still rarely found on today's high-end phones, so it proves useful when the occasion arises for us to rely on it.
Although they have similar sized screens, the DROID Turbo gains more attention on paper for its 5.2-inch 1440 x 2560 quad-HD AMOLED display. The resolution alone is commendable, since there are still few phones that employ such a high resolution. To be fair, though, the 5.1-inch 1080 x 1920 Super AMOLED display of the Galaxy S5 is pretty sharp on its own. Looking at the two together from a normal distance, it's really tough to distinguish the expected superiority of the DROID Turbo. Then again, there's the matter of looking up close and personal.
Paying attention to the other parts of the phones, there's no denying there are more alluring qualities with the DROID Turbo – from a specs point of view, naturally. Specifically, it benefits from having newer hardware, like its quad-core 2.7GHz Qualcomm Snapdragon 805 processor with 3GB of RAM and 21-megapixel camera. Those two things make seem to be more intriguing than what the Galaxy S5 boasts with its package. In particular, it features an older, but still formidable quad-core 2.5GHz Qualcomm Snapdragon 801 processor with 2GB of RAM and a 16-megapixel camera.
We should note, however, that there are several more hardware and software features in tow with the Galaxy S5 – such as its finger print sensor, IR blaster, various Air Gestures, microSD card slot, removable battery, heart rate sensor, and enhanced multi-tasking via its Multi Window feature. Motorola's approach is far different than Samsung, as the DROID Turbo mostly relies on a few, yet very focused set of software features. At the end of the day, they're two wonderful Android smartphones, but it's looking like the Galaxy S5 is starting to feel a bit dated. Then again, there are always surprises around!