Motorola DROID RAZR boots up with ICS
11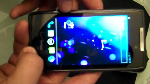 It's definitely not much more than a proof-of-concept right now, but the first video of Android 4.0 Ice Cream Sandwich running on a Motorola DROID RAZR has popped up on the interwebs. The video comes from DroidTh3ory, a developer and modder who posted on the DroidRzr forums.
Along with the video of ICS running on the RAZR, DroidTh3ory has also posted the video of how he installed the ROM on the RAZR. As you'll see in the video of ICS, it is really not a functional ROM, even though it mostly looks like it works. Everything on the phone looks good, and even the physical buttons work fine. The only real issue, albeit a big one, is that navigating the ROM is more like a pointer system, where one finger moves around the pointer while the other taps to select, etc.
At the time of this writing, there was no listing of working/not working features, so we can't say how far along work is for getting other features working like the camera, WiFi, Bluetooth, calling or audio. Still, it looks like a solid start.