Motorola DROID 3 teardown reveals juicy hardware & tough disassembly process
13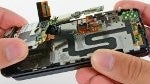 Surely, we know that the
Motorola DROID 3
isn't messing around nowadays with its larger presence than its predecessors, but its solid construction does make it one difficult handset to take apart.
Well, the team over at iFixit know all too well about this handset seeing that they recently took up the daunting task of taking apart Motorola's latest big boy in the Motorola DROID 3. For starters, they mention that the handset is
notoriously difficult
to repair due to the
lengthy disassembly process
that it requires just to access its display and glass. Additionally, the entire process is slowed due to the fact that Torx screws and glue are abundant everywhere throughout the handset's construction that will keep even veterans sweating as they meticulously take it apart.
However, it should be worth noting that the handset finally sees a much
significant upgrade in hardware
versus its predecessor – and boy does it impress some people with its arsenal. In fact, their teardown reveals that the handset packs a dual-core 1GHz ARM Cortex A9 CPU, which is highly regarded as a proper processor upgrade. In addition, some of the new items on board with the handset is its much useful SIM card slot that enables owners to use it with various GSM networks and front-facing camera.
With the motherboard, it includes the following on it:
Qualcomm MDM6600 supporting HSPA+ speeds of up to 14.4 Mbps
SanDisk SDIN4C2 16GB MLC NAND flash
Elpida B4064B2PB-8D-F 512MB RAM
TI OMAP 4430 CPU (hidden underneath the Elpida RAM)
Triquint TQM7M5013 Linear Power Amplifier
Kionix KXTF9 11425 1411 three-axis accelerometer
Qualcomm PM8028 chip that works in conjunction with the Qualcomm MDM6600 to provide wireless data connection
Hynix H8BCS0QG0MMR memory MCP containing Hynix DRAM and STM flash
source:
iFixit
Recommended Stories